Подробности

Категория: Вселенская Церковь
Опубликовано 16.06.2017 17:44
Просмотров: 542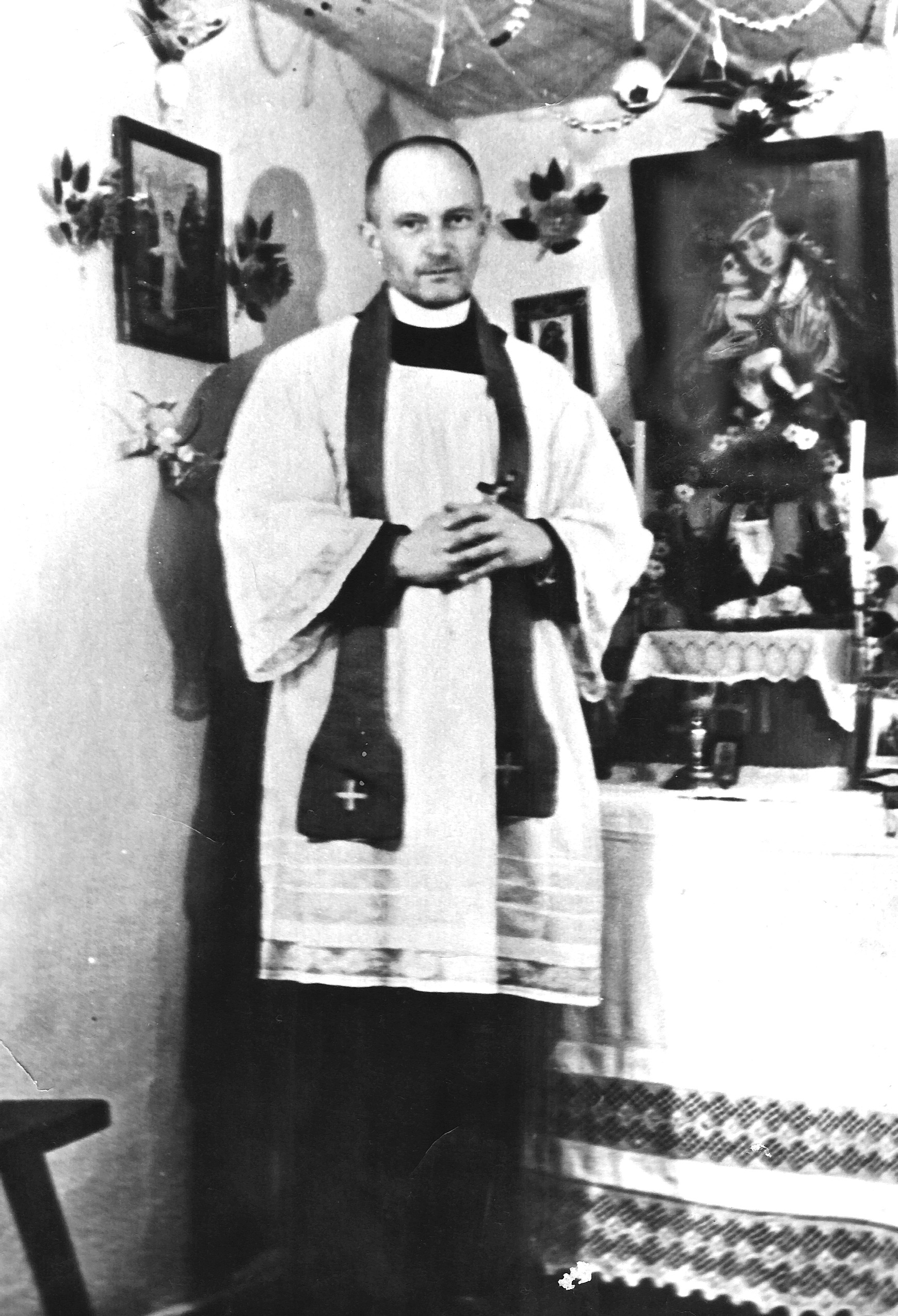 On June 20, 2017, we will celebrate for the first time the memory day of Fr. Władysław Bukowiński as a Blessed. We remind you that his beatification took place on 11 September last year. That was the first beatification of the Roman Catholic Church in Kazakhstan and the first beatification that took place on this country's land. On that occasion, we publish a biography of this Blessed, which, perhaps, some of you already know.
Blessed Fr. Władysław Bukowiński, the Apostle of Kazakhstan
Family and childhood
Władysław Bukowiński was born on January 4, 1905 (December 22, 1904 according to the orthodox calendar), in Berdychiv, in what is now the Ukraine. His father was Jozef Cyprian Bukowiński. After the death of his first wife, Władysław's mother, he remarried, this time to his first wife's sister, Victoria Scipio del Campo. Władysław treated to her with great respect, as if she were his mother. Besides Władysław, the Bukowiński family had two more children: his sister Irina Bukowińska-Dawydowska and their half-brother Zygmunt.
The first years of his life were spent in the village of Gribenikovka, Ukraine. Władysław showed great intellectual capacity in early childhood and so began studying already at home, where he also received religious education. The rosary became his favourite prayer. An atmosphere of kindness and respect reigned in the Bukowiński home leaving a deep impression in Fr. Władysław's heart that would remain his whole life.
Studies
In 1914, Bukowiński entered the Russian high school in Kiev, then studied in Zhmerinka (Podolia), and from 1917 on the Polish high school in Płoskirów (Proskurov). In 1920, fleeing from the Bolsheviks, his family moved to Poland and settled in Święcice. In 1921, Władysław passed the exams in Krakow and entered the Law Faculty of the Jagiellonian University, from which he graduated in 1926. At the same time, he graduated with honors from the Polish School of Political Science. These years were marked by an intense activity in the academic circle, where the students coming from the eastern regions of Poland were gathering. In this environment, he found many friends. From 1925 to 1926, Bukowiński worked in the editorial office of the Czas magazine.
Vocation
The vocation to the priesthood was awakened in Władysław's soul through a conversation with a seminarian, who described his life in the seminary as a time of great joy, which did not correspond to its usual portrayal in society. In 1926, Bukowiński entered the seminary and began studying theology at the Jagiellonian University. The preparation for the priesthood included both the acquisition of theological knowledge and spiritual education. Fr. Józef Nowak, the senior priest of Rudawa, where Władysław spent his vacations during his first cycle of seminary studies, described him saying that thanks to his piety and exemplary life, he was an example not only for the parishioners, but also for the priests, and gave hope that he would be "the pride of the Church".
Władysław Bukowiński was ordained by the Metropolitan of Krakow, Adam Stefan Sapieha on June 28, 1931, in the Cathedral of Krakow. From 1931 to 1935, Fr. Władysław served pastorally in the high school in Rabka, and then in Sucha Beskidzka. There he cared for the sick and poor, organized the Academic Society "Revival" among the student youth of Krakow who were originally from Sucha Beskidzka. Just as he was active in public life during his time of study at the Jagiellonian University, so he then took extremely dedicated and active care of the souls entrusted to his care. In August 1936, Bukowiński got a year off, and voluntarily went to the eastern border of Poland, and then asked to be transferred to the diocese of Lutsk. There he was a teacher at the seminary and then a secretary of the diocesan institute for the Catholic mission. He was also the editor of the Spójnia magazine as well as the director of the Higher Institute of Religious Knowledge, and the deputy editor of Życie Katolickie.
Years in prison
In 1939, Fr. Władysław was appointed dean of the cathedral of Lutsk. In addition to that, he also visited people and prayed with them before their deportation to Siberia and Kazakhstan, bringing them words of encouragement and hope. Fr. Władysław also buried in the local cemetery those frozen children who had been thrown out of the vehicles transporting the exiles. Pope John Paul II called these actions the heroism of a witness and a shepherd. For a similar service to the people, Fr. Bukowiński was arrested by the NKVD on August 22, 1940, and was held in Lutsk prison, where he was sentenced to 8 years of imprisonment in labor camps.
However, due to the Blitzkrieg offensive of the Nazi Army, the retreating Soviets began to liquidate prisoners. On June 23, 1941, Fr. Władysław was miraculously saved from the mass execution of prisoners by the Soviet army. The bullet did not hit him. Moreover, lying there in the yard of the camp beneath the gunfire, he heard the confession of his less fortunate companions, releasing them from their sins.
Bukowiński recalled that moment himself: "When I was in the prison yard in a hail of bullets, I was surprisingly calm. My entire 36-year-old life condensed to that moment. I also gave absolution to the people lying next to me. My mind was working with great intensity. I experienced the end of the present and a glimpse of eternity. This experience was indescribable and beautiful, it was absolutely impossible to forget. I do not know what would have happened to me if I felt the pain of a wound, but there was no pain in my body. My spirit soared freely between the present and the eternal, as it had never been before or after in my life."
Fr. Bukowiński had been lying unconscious for a long time under the corpses until the Germans appeared in the prison and he regained consciousness and got out from under the bodies. Fr. Władysław left the prison extremely emaciated and exhausted, but despite this, he continued to fulfill the ministry entrusted to him  as dean at the Lutsk Cathedral.
After the re-occupation of Lutsk by the Red Army, in the night from the 3rd to the 4th of January 1945, Fr. Władysław Bukowiński was re-arrested and imprisoned with other priests in the NKVD building in Lutsk. After eighteen days of investigation, the priests were taken to Kowel, and from there to the prison of the NKVD in Kiev. The investigation continued until June 1945. In it, all the priests were accused and later sentenced in absentia to ten years in prison camps. He spent the following years (1946-1950) in Chelyabinsk camps, where, aside from hard work, Fr. Władysław also carried out his priestly ministry in secret. The next 4 years were spent at the copper mine in Zhezkazgan. Even there, he tried to use every opportunity for his apostolate. While everyone was asleep, he celebrated the Eucharist, kneeling on the benches which served at the same time as an altar and wearing a prison uniform instead of a chasuble. 
Exile to Karaganda
On August 10, 1954 Fr. Władysław Bukowiński was released from the camp and sent to Karaganda, where he worked as a watchman at a construction site and at the same continued to provide pastoral care in secret.
The key moment of his vocation took place in June of 1955. It was then that he declined the offer to return to Poland, to his historical homeland, and decided to obtain Soviet citizenship and remain faithful until death to the local faithful. He made this decision with full awareness of the serious consequences this choice could have.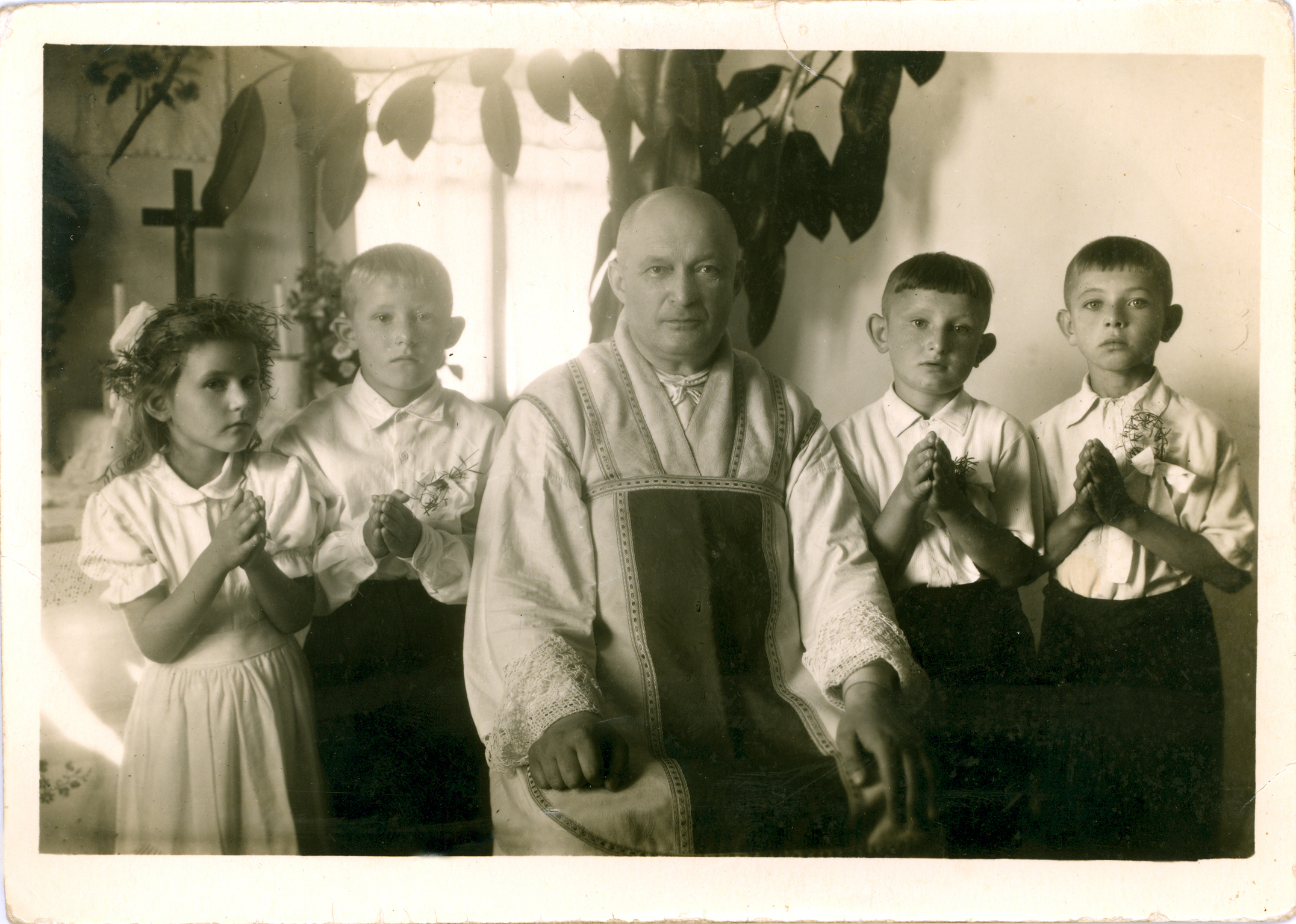 In May 1956, having obtained a passport and freedom of movement throughout the Soviet Union, Fr. Władysław left his job as a night watchman and from that moment on completely devoted himself to pastoral care, which he still had to do secretly. Fr. Bukowiński settled on the outskirts of Karaganda living with the Polish Mader family. He then began to help other priests, making trips across Kazakhstan and Central Asia.
Altogether Fr. Władysław made eight mission trips to remote regions of Kazakhstan and several times visited Tajikistan.
In June 1956, Fr. Bukowiński went to the outskirts of Alma-Ata. There he visited the resettled Poles who hadn't seen a priest for twenty years. Here is what he wrote on this subject: "In one village, the local "patriarch" Mr. Lewicki greeted me with a short appeal in presence of the gathered people. It was, perhaps, the most moving speech addressed to me in my whole life. Mr. Lewicki said, 'We were taken to these mountains and left here, and everyone forgot about us. No one remembered us. A spiritual father has come to us, who are orphans, we are orphans.' The respected "patriarch" was crying, the whole gathered people were crying, and the father was crying with them. But these were good tears."
On the next two mission trips, made in 1957-1958 and also in 1968, he went to Tajikistan. There he went to an area where most of the people were Germans, resettled from Odessa, about whom Fr. Bukowiński had heard while still in Karaganda. He was the first Catholic priest who visited those places. Besides that, Fr. Władysław also visited the Ukraine, where he joined in the work of the local priests. He also made trips to Aktyubinsk and Semipalatinsk. But the mission trip to the east, to Semipalatinsk in 1958, was interrupted by police intervention.
On December 3, 1958, Fr. Bukowiński was arrested for his religious activity (at that time he was trying to register the Catholic community in Karaganda). From March of 1959 to June of 1961, he stayed in a labor camp in the village of Chuna, near Irkutsk, where he worked clearing forestland. From April to December 3, 1961, he was imprisoned in Sosnovka, in the Mordovian Autonomous Soviet Socialist Republic (ASSR). All told, Fr. Bukowiński was held in prisons and labor camps for thirteen years, five months, and ten days.
After being set free, Fr. Władysław returned to Karaganda and continued his pastoral ministry. Together with the Greek Catholic Bishop, Alexander Hira, Fr. Władysław founded the Third Order of St. Francis in Kazakhstan, where people took their vows and prepared for monastic life.
In 1965, Fr. Władysław Bukowiński received permission to visit his relatives in Poland for the first time.
On June 3, 1965, after about thirty years of wandering, he came back home. There he met with family and his old friends, but did not want to stay, because he thought that his place was in Karaganda.
He returned two more times to Poland, in 1969 and 1972. Above all this was to improve his health, which had been undermined by years of imprisonment and heavy pastoral work.
During these visits to Poland, Fr. Bukowiński met with Cardinal Karol Wojtyła, who took a keen interest in his pastoral care in Kazakhstan. Pope John Paul II later reminisced about those meetings during his visit to Astana in 2001.
Fr. Władysław Bukowiński stressed that a sick priest is also a pastor. That is why, after two months spent in a Krakow hospital, on April 19, 1973, he returned to Karaganda. He said that even in his grave he will continue with his apostolate.
Staying in Poland contributed to improving Fr. Władysław's health, but the exhausting work in adverse conditions had led to its sharp deterioration. By the end of October 1974, Fr. Bukowiński went to rest in Wierzbówiec in Podolia, where he stayed at Fr. Józef Kuczyński's house, making a spiritual retreat. Anticipating that his life was coming to an end, he wanted to visit his friends, and, among others Fr. Józef Kuczyński and the grave of Fr. Bronisław Drżepecki. Despite being in bad health, with severe swelling in his legs, he retained his joy and peace of mind, and showed a lively interest in everything going on around him. Every day, Fr. Władysław celebrated Mass and preached. His health was not improving though, and having returned to Karaganda, he fulfilled his priestly ministry with the last of his strength. His last Holy Mass was celebrated on November 25. After having gone to confession and received last rites (Viaticum), he was sent to hospital. Władysław Bukowiński died in Karaganda, December 3, 1974. Until the end he was conscious and incessantly praying, having died with a rosary in his hands.


The news of the death of Fr. Władysław Bukowiński spread quickly and caused universal sorrow. His funeral was attended by thousands of people, some priests, including priests from the Ukraine, as well as priests of other confessions. Everyone wanted to accompany the Apostle of Kazakhstan, as he was called, on his last journey. Despite the bitter cold, the girls wore white dresses with garlands on their heads, and in their hands they held lighted candles. With great dignity and songs, all the participants were saying goodbye to the deceased priest. The funeral took place at the new cemetery behind Karaganda. The Catholics often visited his grave to pray, and so Fr. Władysław's wish came true: even from the grave he continued his apostolic activity.


His parishioners collected their own hard-earned money to erect a handsome marble monument to their spiritual father with a photo and an inscription in Russian, Polish and German. In 1991, his mortal remains, as well as his monument, were solemnly transferred to the former Cathedral of Saint Joseph, located in Maikuduk (Karaganda), and placed outside its walls. In 2008, they were reburied inside it. Today, after exhumation, they are situated in the new Cathedral of the Blessed Virgin Mary of Fatima – Mother of all Nations, surrounded by prayers, care and memories of the faithful.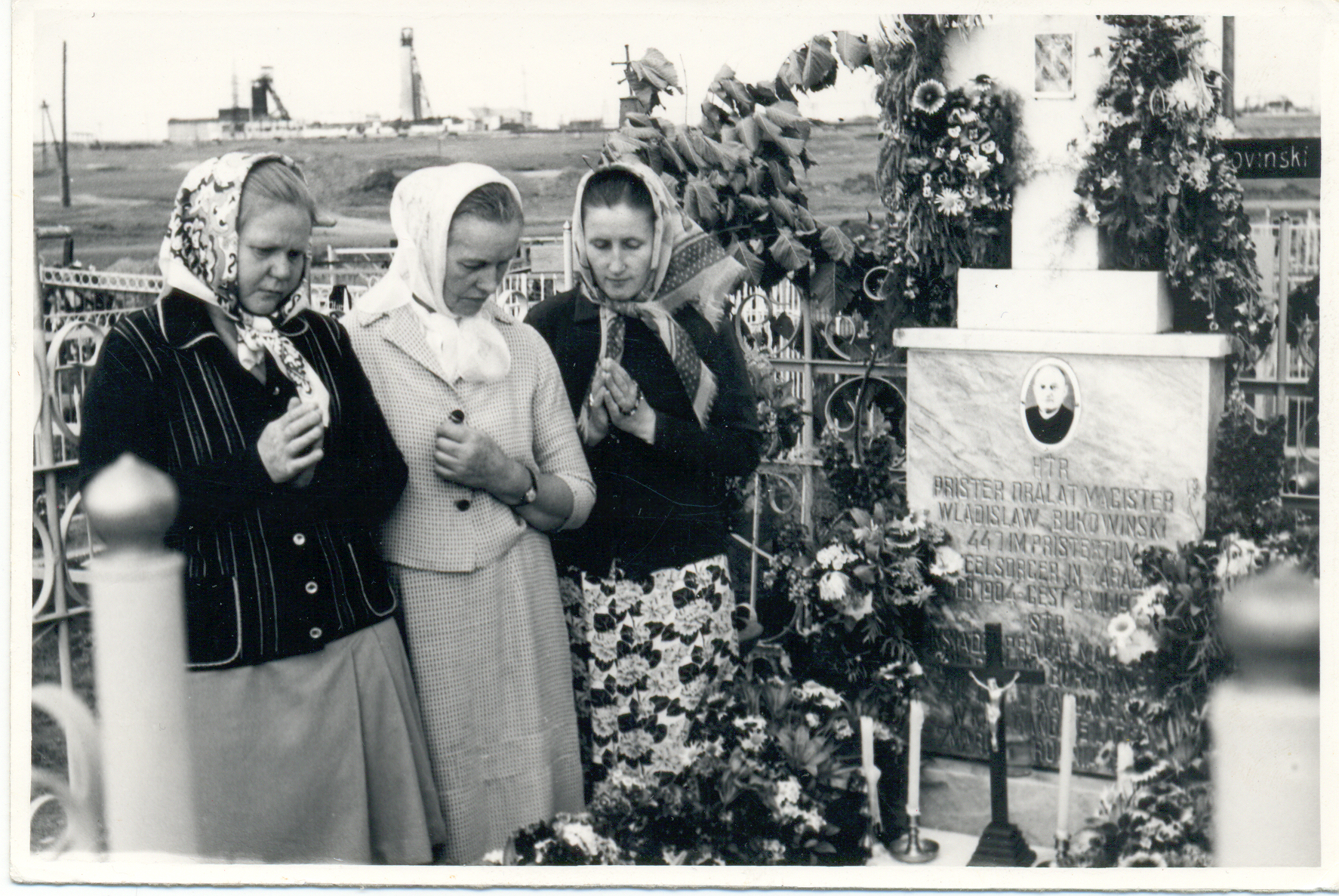 The Apostle of Kazakhstan


In 2001, Pope John Paul II, visiting Astana, proclaimed Servant of God Fr. Władysław Bukowiński to be the Apostle of Kazakhstan, burning with the same apostolic flame as the disciples of Christ. In the presence of the President of the Republic, the Holy Father added that he had learned about Kazakhstan from this devotee of the faith.


Fr. Władysław Bukowiński was a person who was kind and pleasant to talk to, and, to the end, he was faithful to his holy priestly activities. The faithful have always been convinced of his holiness. Thus, on April 26, 2004, at the request of the Bishop of Karaganda at that time, Archbishop Jan Pawel Lenga, a tribunal was formed in Krakow which appealed to Cardinal Franciszek Macharski asking him to initiate the process of beatification. The tribunal's tasks included the surveying of people living in the territory of Kazakhstan, Ukraine and Poland who personally knew Fr. Bukowiński, and collecting the priest's correspondence and various documents relating to him. The request of the archbishop was granted and on June 19, 2006, the process of beatification was begun at the diocesan level. Fr. Jan Nowak was appointed as its postulator. On March 8, 2008, the diocesan phase of the beatification process in Krakow was completed and the conclusions of the commission were handed over to the Congregation for the Causes of Saints in Rome.


At this stage, the postulator in the process became Msgr. Michał Jagosz. For Fr. Władysław to be officially recognized as blessed, a miracle through his intercession was required. This miracle then happened: a terminally ill Fr. Mariusz Kowalski received divine healing through the intercession of Fr. Bukowiński thanks to the ceaseless prayers of the faithful.


In Rome, after the medical commission and theological commissions examined the miracle,  a meeting of Cardinals published a decree on his heroic virtues, and on December 14, 2015, Pope Francis issued another decree recognizing the miracle and paving the way for completion of the beatification process.


The beatification of Father Władysław took place on September 11, 2016 in the Cathedral of the Blessed Virgin Mary of Fatima – Mother of all Nations in Karaganda. A book about Bl. Fr. Władysław written by Fr. Aleksander Posacki SJ, as well as an album in Russian and English were published for that event. Besides that, Fr. Andrzej Zwoliński and other authors wrote some booklets about Fr. Władysław in Kazakh, and Sr. Alyona Bruk SJE wrote a comic book for children about him.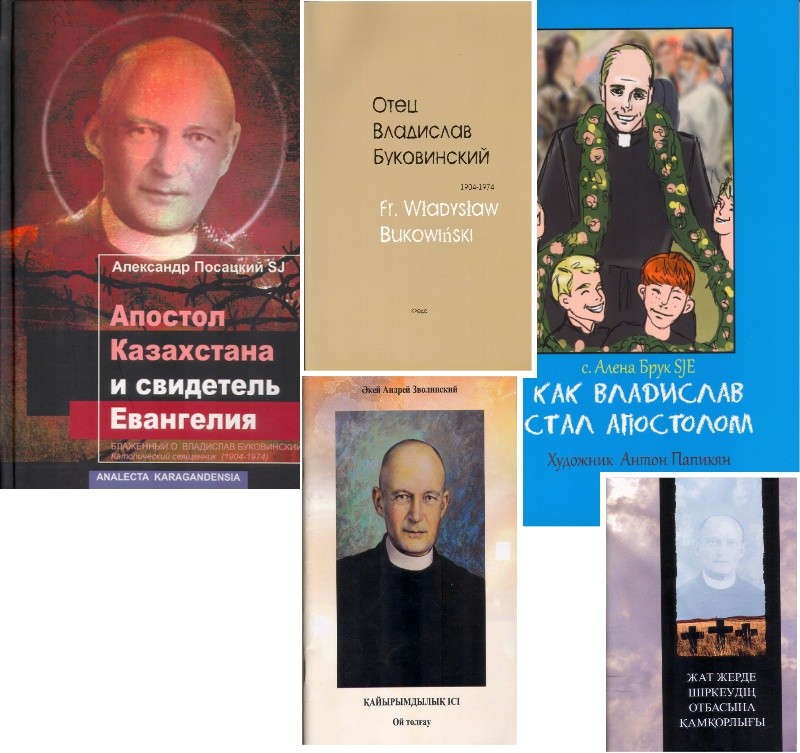 Władysław Bukowiński
Heavenly Father, you entrusted Blessed Father Władysław with pastoral ministry even in prisons and labor camps, giving him a deep faith, courage, and forgiving love. Give me these same gifts that are so necessary to live a life according to the Gospel in today's world.


Through the intercession of Blessed Władysław, hear my prayer and grant me the grace which is so needed by me (express your intention).

Through Christ, our Lord.